WE PROVIDE INTUITIVE
UI / UX Design Services
Want to build your product with a team that has a clear design process, meets deadlines, and gives you a perfect end result? Turn to Webtoils for UI and UX services. Our design team is a small design studio inside of our company. They can help you build an interesting product quickly and easily.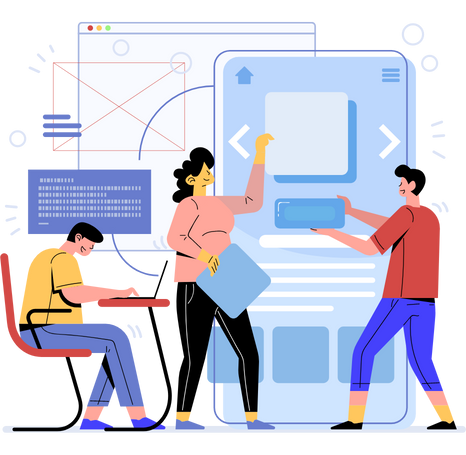 Create a wonderful online and mobile experience for your users.
Professional UI & UX Design Services At Webtoils
Webtoils has a team of design experts with more than a decade of experience in responsive web design, product design, brand identity, and maintenance, all with a focus on making things easy for users and adding value. From new businesses to those that have been around for a while, and from a simple logo to full brand maintenance, we help our clients succeed with modern designs that are affordable, interactive, and catch the eye.
How Do We Carry Out Design Roadmap?
Customer interactions, brand analysis, and creative briefs
UI tools simulate actions and reactions to create mock-up designs.
Help people see how the interactions and interfaces work.
Ongoing Measurement and Reporting
Analyze the features' and project's usability.
We use the most up-to-date tools for web design, such as Adobe Photoshop, Illustrator, After Effect, In Vision, Adobe XD, and many others. We know how to use technologies like HTML5, JavaScript, CSS3, WordPress, PHP, and jQuery on the front end. Our designers know how to work with modern frameworks like Bootstrap, Vue, Angular, and React to integrate themes. We also help our clients develop plugins that make certain tasks even easier to do.
What We Offer in Terms of UI/UX Consultation
You're behind schedule because UI/UX designers don't collaborate with developers.
A finest mixture of technology and art in our projects captivates you with the elegance and style of visuals, sounds, contents, and interactions in our solutions. The insights provided by the creative vision, combined with the modern technology touch, result in a completely satisfying user experience in every design solution we offer.
Our Service Offerings:
Graphic Design & Corporate Branding
Custom Web Design and Development
Mobile App Design
Wearables App Design
Wireframing
Product Design
Hire UI / UX Designer At Webtoils, you can get design services that are creative, of high quality, reliable, and pleasing to the eye.
We make the journey of the user experience seamless.
Benefits Of Our UI And UX Services
When you choose our services, you get everything you need to make your product idea a reality, from experience working with Fortune 600 clients to design standards that help us deliver your product faster without sacrificing quality.
Excellent User Experience
After all, our designs are meant to give our customers around the world the best user experience and user interface possible.
Industry Expertise
Ten years of experience in the IT industry with a variety of technologies is sufficient evidence of our international success.
Affordable and Timely
Our design solutions are affordable, timely, and effective in growing your user base due to close collaborations and innovative ideas.
Accessibility & Readability
UI experts make your offers accessible wherever users browse. This maximises your site's visibility, consistency, and user-friendliness with content management systems.
More Engaging Pages
Impressive content and eye - catching graphics can impress visitors while also lengthening load times. Users will leave slow pages and cluttered websites.
Optimal Performance
High website performance affects visibility. Google prefers fast, consistent pages. Plus, performance errors increase bounce rates and lower page rank.